Suri Agro Fresh becomes one of first Indian companies to import 'eco-friendly' apple brand from Italy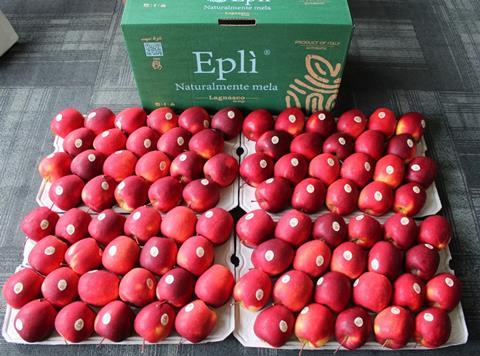 Indian importer Suri Agro Fresh (SAF) has begun importing Eplì apples from Italy this month, with plans to scale up the programme next season.
The Eplì apple brand is owned, developed and grown by Piedmont-based Lognasco Group. Marketed as an eco-friendly apple, Eplì is produced from the Inored variety, which is naturally resistant to pests, radically reducing the need for agrochemical inputs or treatments.
Suri Agro received a trial consignment in the first week of June, with fruit made available through wholesale channels, the SAF Green App, and cash and carry outlets, according to head of growth (sourcing), Siddhaarth Suri.
"Eplì apples are environmentally friendly and they adopt best-in-class agricultural methods. The sheer philosophy of giving back to the environment makes Eplì an automatic partner of choice for us," said Suri.
Eplì's balance of sweetness and acidity make it a good fit for Indian consumers, he added. "The taste and texture of the fruit are much to their liking, and Indian consumers are becoming more health and environmentally conscious," Suri noted.
SAF has an alliance with Italy-based global exporter Novafruit, which supplies the Indian company with the licensed Eplì apples. "Luca Antonietti and Raffaella Olivia from Novafruit have been instrumental in bringing Eplì apples to India," he added.
The trial consignment came at the tail end of the Italian season. Following the success of the first shipment to Delhi, Suri said SAF was looking to expand distribution of Eplì to other parts of India next season.
In addition to apples, SAF is sourcing a range of other fruits from Italy, including kiwifruit, plums, peaches, nectarines and cherries.