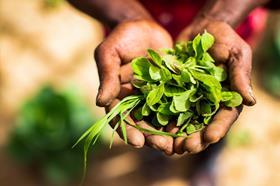 India's big-spending budget has received the thumbs-up from leading players across the country's horticulture sector for its policies to modernise farming and supply chain development.

The 2022/23 budget, announced by finance minister Nirmala Sitharaman in parliament on Tuesday (1 February), included a raft of measures to ramp up the use of technology in Indian agriculture, which is heavily dominated by smallholder farmers.

The policies promoted the use of kisan (farmer) drones for crop assessment, digitisation of land records and spraying of pesticides as well as public-private partnerships for the delivery of digital and high-tech services to farmers across the country.

The budget also placed an emphasis on chemical-free natural farming, while pledging to revise the syllabi of agricultural universities to modernise the sector. Sitharaman said state universities would be encouraged to revise their programmes to meet the needs of natural and organic farming, modern-day agriculture and value addition and management.

Bayer South Asia president Duraiswami Narain welcomed the moves. "The announcement in this year's budget on strengthening the delivery of digital and high-tech services to farmers through the public-private partnership model will go a long way in helping Indian farmers reap the benefits of technological advancements," he said.
"Major initiatives like promoting the use of kisan drones, funds to finance start-ups for agriculture and rural enterprises, supporting FPOs [follow on public offerings] through these enterprises, and boosting domestic oilseed production, have the potential to transform the sector."
Infrastructure upgrade

Prime Minister Narendra Modi's government plans to increase capital expenditure by some 35.4 per cent to Rs7.5 trillion (US$100bn), and much of the additional outlay will go towards improving infrastructure – moves also welcomed by India's horticulture industry.

The expenditure includes the so-called "PM Gati Shakti" masterplan for multimodal connectivity, with plans to develop expressways, 25,000km of new highways and 100 cargo terminals.

Tarun Arora, director of finance and operations for leading Indian fruit enterprise IG International, told The Hindu Business Line the focus on agriculture in the budget was much needed.

"The government has pushed sustainability along with growth. They have the intent to shift the logistics from roads to multi-modal for home-grown companies. This will help improve time management," he said.

Arora also welcomed the investment in cargo terminals to help drive infrastructure development. "We were hoping there would be more [focus] on cold chain facilities as these are integral to the perishable supply chain as well," he said. "Overall, it is a budget with an aspiration to revive the economy, which will bring further growth."

Three-pronged approach

Karthik Jayaraman, managing director of Indian agri-commerce company WayCool Food and Products, said the budget gave great impetus to 'sunrise sectors' such as ag-tech and climate smart technology, as well as strengthening core infrastructure, and focusing on sustainability through natural farming and regenerative agriculture.

"This triple barrelled approach lays the foundation to building the next generation of food supply chains in India, leapfrogging other countries in the use of technology," said Jayaraman. "It will help propel our core sectors such as food and agriculture, energy and other spaces firmly into the 21st century, and sends out a very bold signal to the world, that the world's largest democracy is also demonstrating that it is the world's most forward-thinking democracy.It also sends a signal to private capital, nudging private capitalists to focus on sectors of substance, rather than froth."

Spending to speed recovery

The government's big-spending budget is aimed at driving India's recovery from the Covid-19 pandemic and reclaiming the nation's place as the world's fastest-growing economy. Unemployment in India has surged since the pandemic and the government has come under criticism for an uneven recovery. People in the country's vast informal economy have been falling back into poverty, while the formal economy, led by large-conglomerates, rebounds sharply.

The Indian government has projected India's GDP to grow 9.2 per cent in the year ending March and 8-8.5 per cent in the 12 months from April, outstripping growth rates for any other large economy.

Economists have flagged concerns that the borrowing needed to finance the spending will put additional pressure on interest rates.

The budget was announced as Modi's ruling BJP party prepares for a series of important state elections, with large-scale infrastructure and rural development spending forming a key part of Modi's pitch to voters.