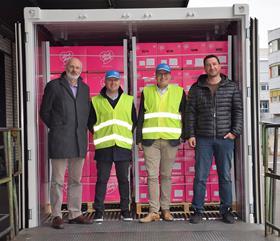 The consortium of fruit and vegetable cooperatives of South Tyrol (VOG) has announced an initial 8-tonne shipment of Italian grown native apples are heading to Vietnam.
It's an historic maiden voyage for VOG, which has been negotiating the export of Italian apples with Vietnam since the end of 2015.
Clarification of phytosanitary requirements were reported to be the biggest challenge in negotiations, with several site visit inspections conducted by the Asian plant protection authority.
Director of VOG, Walter Pardatscher, said he was proud of the milestone.

'With this first delivery to Vietnam, not just our association but the entire national apple market has reached a major milestone. No apple has ever been shipped from Italy to Vietnam before," said Pardatscher.
"I would like to take this opportunity to thank Assomela, the representative of the interests of Italian apple producers, and hope that we can consolidate and continue our cooperation with Vietnam in the near future."
Negotiations to gain market access to Vietnam were assisted by the Centro Servizi Ortofrutticoli (CSO), various regional authorities, Italy's ministry of agriculture, the national institute for export and the Italian Embassy in Hanoi, who were in discussion with Assomela, the Italian association of apple growers.
Assomela director, Alessandro Dalpiaz, noted the importance of gaining market access to Vietnam.
'At a time that is certainly not easy for the international exchange of goods, Vietnam's market opening is of even greater importance. It illustrates, far beyond the apple sector, that confidence has been restored in markets and trade between countries that are far apart,' said Dalpiaz.
VOG has identified Taiwan and Thailand as markets it hopes to expand into following Vietnam.