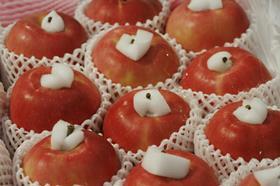 Japan's government has announced plans to double its agriculture, fishery and forestry exports to¥2 trillion yen (US$19bn) by 2025.
According to the Japan Times, the aim of the plan is to bolster the country's farm industry while domestic demand shrinks.
Yoshihide Suga, chief cabinet secretary, told a government meeting that the popularity of Japanese fruit and vegetables in the rest of Asia means exports can continue growing.
'We will quickly formulate a plan to achieve this new goal,' said Suga.
Apples and strawberries lead the way when it comes Japan's fruit and vegetable exports.
According to statistics from the Ministry of Agriculture, Forestry, and Fisheries, Japan exported ¥13.9bn (US$135m) worth of apples in 2018, a 27.6 per cent increase on 2017.
Meanwhile, the value of strawberry exports increased 40.7 per cent year-on-year to ¥2.5bn (US$19m) in 2018.