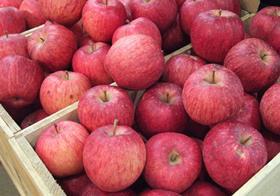 Japan is turning to the Indonesian market to expand its apple exports as the Taiwanese market becomes more competitive.
Japan's Aomori Prefecture is the largest apple production area in the country, accounting for around half the country's volumes and most of its exports, and traditionally has sent around 90 per cent of its apples to Taiwan.
But the Taiwanese market is becoming more difficult for Japanese apples in the wake of a territorial dispute over the Senkaku Islands between the two nations, and with rising competition from Chile and the US, reported The Japan Times.
Aomori sees Indonesia as an opportunity to build apple exports, however, and the prefecture's Governor Shingo Mimura visited the market in December to promote the trade.
Mimura met with Indonesian government officials on the trip, as well as representatives from Toyota Motor Corp's local division, The Japan Times reported.
The Governor highlighted the quality of Aomori apples, and the prefecture co-sponsored a promotion in a high-end produce store in Jakarta, reportedly with success.
"There is demand for these apples as presents for the Chinese New Year," a prefecture official said.
The Governor's Indonesian visit followed a similar trip to Taiwan in October last year to promote the region's apples. Taiwanese consumer confidence in Japanese apples took a hit from the Fukushima Daiichi nuclear disaster in 2011.
Apples represent a major portion of Japan's fresh produce exports – 42 per cent by value in 2011. The industry is known for varieties like the enormous Sekai Ichi, which translates as 'world's number one'.