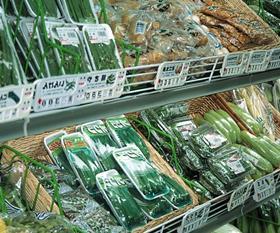 Japanese retailers have kicked off national vegetable promotions this week to soften the blow of high prices for consumers.
Cold weather across Japan has pushed up the prices of vegetables, and on Wednesday major retailer Ito-Yokado Co launched a three-day sale, which it later extended to six days in response to customer requests.
The sale covers 18 vegetable lines in 161 stores across Japan, cutting prices from 20 to 60 per cent.
Rival retailer Aeon Co also launched two-day vegetable sale on the same day, cutting prices on 18 to 20 lines in 95 stores in greater Tokyo, and 325 stores later in the week in other parts of the country.
As has been happening in neighbouring China, vegetable prices have spiked in the last few months as a result of the cold weather.
According to Japan's Ministry of Agriculture, Forestry and Fisheries, the average price of daikon rose from ¥127 per kg to ¥143 per kg in just one week in late December, while cabbage prices rose from ¥132 per kg to ¥151.