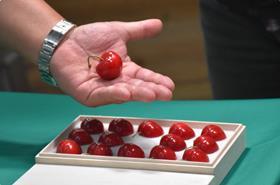 A box of 15 premium cherries sold for ¥450,000 (approx. US$4,000) during the first auction of the season at a wholesale market in Hachinohe, Aomori Prefecture, Japan according to Mainichi reports.
The large 'Juno Heart' cherry variety was developed by the Aomori Prefectural government. Premium cherries with a width of 31mm or more are sold under the brand 'Aomori Heartbeat'.
'The attention level is higher than last year,' said Yoshitaka Yokomachi, president of fruit and vegetable distributor Hachinohe Chuo Seika KK. 'As they have not been distributed across the country, I think business inquiries will continue for a while," he predicted.
At the end of June, 26 boxes of Juno Heart cherries and 13 boxes of Aomori Heartbeat cherries, produced in the towns of Sannohe and Nanbu neighbouring Hachinohe, were auctioned at Hachinohe's central wholesale market.
Kyoko Nagatsuka, of fruit and vegetable intermediate wholesaler Nagatsuka Seika KK, was the successful bidder for the box of Aomori Heartbeat cherries.
'Many people are surprised at their size and sweetness," said Nagatsuka. "While there are many people who still do not know about them, I would like to introduce these cherries to the whole country,' she said.
Mainichi reports the Aomori Prefectural government plans to launch trial exports of the cherries starting this financial year, and they are slated to go on sale at a Japanese restaurant and a confectionery shop in Hong Kong in early July.
A representative at the prefectural government's general sales strategy division said; 'The great reputation they have in this country could help us market them overseas.'
Hideki Tome, a cherry producer in charge of handling cherries at the Hachinohe Agricultural Cooperative Association, added: 'Though the amount produced is still small, the quality is unrivalled. We would like to establish a production system in which we can distribute them to everyone in the earliest year possible.'