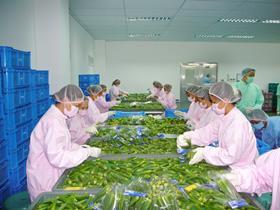 Japan's agriculture workforce has been steadily declining for the past thirty years, and a recent report by the USDA has highlighted the country's dependency on foreign workers, despite them only making up 2 per cent of the total workforce.
According to the report, Japan's foreign farm workforce has increased from 0.5 per cent to 2 per cent over the last decade.
Many of these workers are hired through the country's technical intern training programme, which is limited to five years of employment.
Coronavirus restrictions have led to the closure of borders, limiting the number of foreign workers available for the industry to call upon.
The country's low birth rate and long-life expectancy means its total population is getting smaller and older each year.
The percentage of the population aged 65 or older reached a record-high 28.4 per cent last year, and the report indicated similar trends are visible in the agricultural sector, which has seen even steeper population declines due to increasing urbanization.
Since 1970, Japan's agricultural population has fallen by over 80 per cent, down from 10.3m to 1.7m in 2019.
Meanwhile, the proportion of elderly farmers has steadily increased. In 1970, only 18 per cent of farmers were 65 or older. In 2019, that number reached 70 per cent.
Despite the demographic challenges, agricultural production has remained relatively stable. In 2018, Japan's agricultural output was valued at ¥9.1 trillion yen (US$84.6bn), the same level as in 2000 despite the agricultural population falling by half during that period.
Productivity gains, including the introduction of smart technologies, have reportedly helped to improve farm efficiency. However, much of the stability is attributable to increased use of foreign farm workers who are not counted in the agricultural population data.
According to the ministry of agriculture, forestry, and fisheries (MAFF), there were 31,072 foreigners working in agriculture, forestry and fisheries in Japan in 2018, double the number from just seven years prior.
The availability of foreign labour is especially critical for fruit and vegetable production which often requires cultivation by hand and is far more labour intensive.
The report estimated 90 per cent of foreign agricultural workers gain temporary employment through the technical intern training programme.
This programme was introduced in 1993 with the purpose of promoting international cooperation and enabling foreigners to acquire skills to bring back to their home countries.
However, in practice the programme has become a critical source of inexpensive labour for Japan's farm industry with the number of technical interns growing every year.
Japan's minister of agriculture, Taku Eto, recently announced 1,900 foreign technical interns for agriculture were unable to enter the country as a result of Covid-19-related restrictions.
In response to the potential shortage of foreign farm workers, the Government of Japan has included ¥6bn yen (US$55m) as part of its Covid-19 economic stimulus package to provide labour relief to producers and processers.
The funding is expected to support the deployment of students from agricultural high schools and colleges and promote the use of smart agriculture technologies.
The government is also said to be considering subsidising hired farmworker wages at a rate of ¥500 yen (US$4.65) per hour.
The report concluded Japan's reliance on imported farm labour remains relatively small compared to other industrialized nations, however the Covid-19 situation revealed that certain sectors, particularly fruit and vegetable producers, were unprepared to deal with the sudden unavailability of that labour.