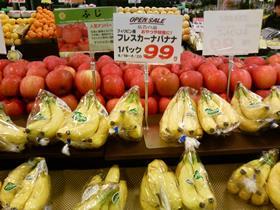 Japan imported a total 897,458 tonnes of fresh fruit during the first six months of 2020, up 3 per cent from the same period in 2019, when the country brought in 873,714 tonnes.
It's the largest volume of fresh fruit imported into the country during the first six months of each of the last five years and is particularly significant given the implications of the global Covid-19 pandemic.
A review of the top 13 imported fruits for the first six months, undertaken by Tokyo Seika's president Jack Moriya, indicated bananas, kiwifruit, and table grapes all experienced an increase in volume over the last five years.
During the same period, grapefruit, lemons, melons and cherries all showed a downward trend, while other fruit, including pineapples, oranges, tangerines, avocados and mangoes remained steady.
Bananas were the standout performers of all imported fruit categories and made up 60.3 per cent market share of all imported fruit during the time period.
The Philippines remained the most popular country of origin for bananas, providing 76.4 per cent of the fruit. This, however, was down by 4.5 per cent year on year, with Ecuador (+1 per cent), Mexico (+2.3 per cent) and Guatemala (+0.7 per cent) providing extra fruit.
New Zealand remained the dominant country of origin for kiwifruit, providing 65,401 tonnes of a total 70,140 tonnes imported in the first six months of the year. This is up a substantial amount on the 2018 total of 49,849 tonnes, and reflects Zespri's continued push into Asia.