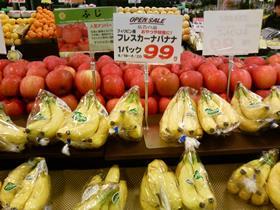 Japan's fresh fruit imports during the month of August 2020 dropped by 10 per cent compared to the volume imported in August 2019. It's a trend consistent with historical data, according to Tokyo Seika president, Jack Moriya.
In his analysis of the data, Moriya noted Japan's fresh fruit imports are most active from April through July, with total import volume beginning to decline in August, and remaining low through to March.
In total, Japan imported 131,217 tonnes of fresh fruit in August 2020, down from 146,049 tonnes imported in August 2019.
In terms of categories, banana imports were impacted heavily due to issues with supply. Import volume for August 2020 totalled 78,586 tonnes, a 7 per cent drop compared to the 84,180 tonnes imported in August 2019, and markedly short of the 88,339 tonnes imported in August 2018.
"Japan is major market for the Philippine banana, but imports (August 2020) were down 13 per cent compared to August 2019," noted Moriya.
"Ecuador with the second largest import and market share in Japan saw a decline of 4 per cent versus August 2019."
Moriya highlighted issues with banana production in the Philippines, including adverse weather, Covid-19 complications and labour shortages, had hampered the country's exports to Japan in recent years.
"The question that needs to be answered is whether or not the Philippine banana production and supply can recover to previous years."
In the citrus category, the quantity of lemons imported to Japan during August 2020 reached 6,559 tonnes, a 21 per cent reduction compared to August 2019.
Chile is the primary origin for lemons to Japan, shipping 5,015 tonnes of the aforementioned total. Moriya indicated Chilean lemon shipments are recovering from a sluggish period during March through May, and volume has picked up in September and October, with total import volume for the entirety of the year likely to reach the same level as 2019.
Avocado imports, however, showed strong signs of growth. A total 7,502 tonnes were imported in Japan in August 2020, up 33 per cent year on year.
"Mexico, the largest supplier, was up 4 per cent. The second largest origin, Peru, saw an increase of 360 per cent compared August 2019, albeit from a very low base," noted Moriya.