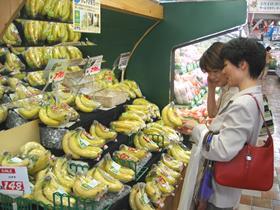 Bananas and kiwifruit remain high on the list of preferred fruit for Japanese consumers, with the latest data from Tokyo Seika president, Jack Moriya, indicating growth for the two categories, despite a drop in supply.
"Import volume for kiwifruit into Japan was down 40 per cent in May (2021) compared to the same month of 2020," noted Moriya. "However, consumption was at 336g per household, which was the highest in the last ten years.
"Expenditure of ¥297 (US$2.69) for May 2021 was the second highest recorded in the past ten years after ¥300 (US$2.72) in May of 2019," he added.
Moriya said that although kiwifruit supplies were down, consumption for the month of May 2021 could be described as "excellent".
As for bananas, consumers spent an average ¥507 (US$4.59) on the fruit in May, the highest amount recorded for the month in ten years.
Consumption came in at 1.97kg per household, the second highest since May 2012, which was 2.03kg. 'We can say that the state of banana consumption in Japan was fair and in good condition," commented Moriya.
General consumption declines
Overall, fresh fruit consumption declined during May 2021 (compared to the same month last year). It came in at the second lowest level (5.03kg per household) for May in the last ten years. The ten-year average is 5.27kg.
Household spending for fruit during the period was up on the ten-year average for the month, however, coming in at ¥2,666 (US$24.14), compared to ¥2,536 (US$22.97).