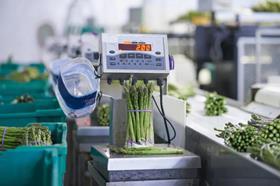 JD.com and Dili Group have unveiled their first smart distribution centre for fresh produce in Shouguang, China.
The two companies increased their cooperation in January 2021 when JD acquired a 5 per cent stake in the wholesale market operator.
Opened on 1 September, the centre will serve as a model to integrate internet and digital capabilities into traditional agricultural production zones and wholesale markets, creating a one-stop supply chain solution to help the industry to reduce cost, improve efficiency and enhance circulation safety.
This centre is equipped with a fully digitalised and traceable sorting and distribution process. Its self-developed SaaS system supports all-round management including stock, inventory, sales, finance, smart sorting and more.
Automation is used in the sorting and cleaning work for vegetables, such as pumpkins, potatoes, onions, carrots and more.
The centre has a 12,000m2 footprint and is designed to handle 300m boxes of classified, pre-processed and packaged agricultural products under strict quality and quantity standards annually.
Within this area, five 1,000m² large standardised fresh-keeping warehouses have been built so far with a storage capacity of more than 1,000 tonnes of products.