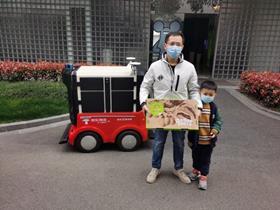 The first box of Zespri kiwifruit sold in China for the 2020 season was delivered with a twist thanks to JD.com's autonomous delivery robot.
The robot was able to bring the box of Zespri SunGold right to the doorstep of one Shanghai resident, removing any element of contact, a factor of extra concern during the coronavirus (Covid-19) pandemic.
The delivery marks the start of a new partnership between Zespri and JD, which will see the e-tailer supply fruit from Zespri directly to consumers.
The first shipment of Zespri kiwifruit landed in Shanghai on 1 April, JD will use the fruit from this consignment to fulfil the large number of pre-orders it has already received.
In the first three days after opening pre-orders on 23 March, 2m Zespri kiwifruit was ordered, which has since increased to 3.75m as of 3 April.