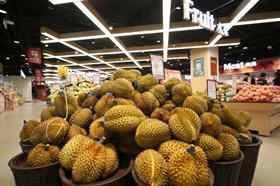 Chinese e-tailer JD.com has announced the expansion of its 7Fresh supermarket retail offering, with the addition of two new supermarkets in Chengdu, one of the most-populous cities in Southwestern China and the capital of Sichuan province.
With the two additional stores, JD now has 20 7Fresh supermarkets across China.
One of the new stories is over 8,000m2 in size, with the first floor dedicated to grocery shopping, and the second on catering – where JD offers various local delicacies to shoppers.
Customers of 7Fresh have the option to order online through the 7Fresh app, with some deliveries able to be completed within 30 minutes.
JD will be hosting a promotional event in June, where it will deliver an omnichannel shopping experience for consumers within its service area.
Asiafruit is now available to read on your phone or tablet via our new app. Download it today via the App Store or Google Playand receive a two-week free trial along with access to previous editions.