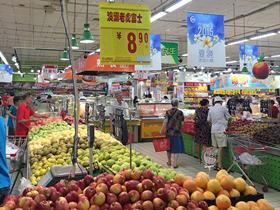 JD.com, China's second-largest e-tailer by sales, has announced it has purchased a 10 per cent stake in Yonghui Superstores for Yn4.3bn (US$700m).
In a statement, JD.com said that the two companies had signed a strategic cooperation agreement, and would "explore an online-offline cooperation model, develop online-to-offline (O2O) business, and work together on storage and supply chain".
The deal is understood to be part of JD.com's plan to expand its offline business to boost its supply chain and diversify the company's offerings.
In March, JD.com founder Liu Qiangdong said in an interview that the development of an O2O service platform was an important strategy for the company this year.
Headquarted in Fuzhou city, Yonghui Superstores operates more than 500 supermarkets in mainland China.The company is primarily involved in retailing fresh meat, agricultural products, household appliances and imported goods among others.
Under the terms of the agreement, JD.com is entitled to appoint two directors to the board of Yonghui (including one independent director).