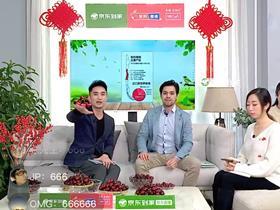 JD Daojia (JDDJ) has collaborated with Asoex to launch a Chilean cherry online shopping festival with a livestreaming event, signifying the beginning of a promotional campaign for Chinese New Year (CNY).
The festival, organised by the on-demand retail platform, the Consulate General of theRepublic of ChileinShanghaiand theChilean Cherry Committee ofthe Chilean Fruit Exporters Association (Asoex), will also involve over 20 leading retailers such as Walmart, Yonghui Superstores, CR Vanguard, and Pagoda.
Nicolás Silva, the business development manager at the Trade Commission ofChileinShanghai, attended JDDJ's Chilean cherry livestreaming e-commerce event on 17 January, where he introduced Chilean cherries to Chinese consumers.
The event attracted a total of 380,000 online viewers. When consumers placed orders at the livestreaming room, the Chilean cherries were delivered from JDDJ's partner stores, located within 3-5km from where the orders were placed. Consumers received the cherries at their homes within one hour.
During the livestreaming event, same-day sales of Chilean cherries on JDDJ was up 133 per cent from the previous week.
Bo Yang, head of JDDJ's fresh food business department, said the partnership would ensure the availability of quality cherries.
'Cherries are mainly imported fromChilein the Chinese market. To meet consumers' needs, JDDJ is partnering with the Chilean consulate and Asoex to shorten the supply chain between country of origin and distributors," Yang said.
"Through these efforts we are improving the quality of cherries available in our platform, ensuring a consistent supply, while maintaining lower prices.'
Charif Christian Carvajal, Asoex's marketing director forEuropeandAsia, said the festival would help bring Chilean cherries to consumers in the leadup to CNY.
"Chilean cherries are not only a good choice for Chinese New Year gifts, but are also a very healthy fruit choice for daily life. This partnership will allow our delicious red cherries to spread health and happiness to more consumers inChina," Carvajal said.