In the presence of New Zealand's Prime Minister Christopher John Hipkins, a strategic sustainable collaboration agreement was signed between Joy Wing Mau and Zespri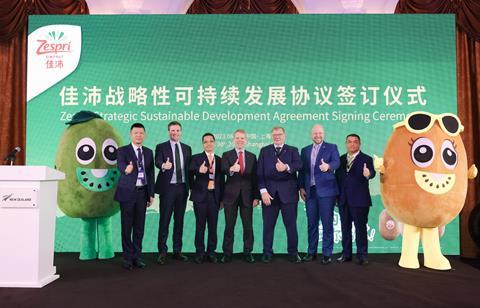 From 25-30 June, New Zealand Prime Minister Christopher John Hipkins led a delegation of business representatives for a visit to China. In the presence of Prime Minister Hipkins and Zespri chairman Bruce Cameron, a strategic sustainable collaboration agreement was signed between Joy Wing Mau (JWM) Fruit Technologies Group, represented by its chairman and chief executive Zhang Jian, and Zespri, represented by its Greater China general manager Jiang Shijie.
This agreement aims to bolster the strategic focus on sustainable development and elevate cooperation between the fruit industries of China and New Zealand to a higher level.
This agreement builds upon the existing China-New Zealand economic and trade cooperation and the five-year strategic partnership agreement signed by JWM and Zespri in 2021. With its extensive multi-channel sales network, digitalized supply chain and professional marketing services, JWM has been actively supporting Zespri's sustainable development in the Chinese market, thereby fostering the growth of China-New Zealand economic and trade relations.
Zespri, one of the most prominent exporters in New Zealand, has forged a long-term and mutually beneficial strategic partnership with JWM since its entry into the Chinese market. Presently, JWM stands as Zespri's largest customer around the globe. Through their close collaboration, China has become the largest export market for Zespri kiwifruit.
As a key strategic partner of Zespri, JWM will collaborate closely with the kiwifruit giant to drive the adoption of green packaging materials in China. Furthermore, JWM will actively encourage its partners to fulfill their responsibilities in environmental protection and establish a green industry chain that encompasses green cultivation, environmental-friendly packaging materials, sustainable warehousing, and energy-saving transportation.
China has become the primary destination for agricultural products from New Zealand. Following the upgrade of the China-New Zealand Free Trade Agreement, the implementation of new policies, including tariff reductions, streamlined customs procedures and expanded market access, has provided convenience and benefits to individuals and companies from both nations.
Nez year will mark the tenth anniversary of the comprehensive strategic partnership between China and New Zealand. As a leading fruit company in China and the largest distributor of New Zealand fruit within the Chinese market, JWM is committed to further enhancing its economic and trade cooperation with New Zealand partners like Zespri and Rockit. Beyond consistently delivering fresh and premium New Zealand fruits to Chinese consumers, JWM will also prioritise a development model that places significant emphasis on sustainability and environmental protection.