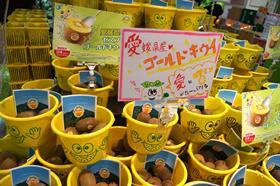 Japan's October fruit import volumes were up 14 per cent compared to the prior-year period, with kiwifruit showing the greatest growth, according to latest figures.
Tokyo Seika Trading Company's monthly import review released this week show that Japan imported a total of 127,553 tonnes of fruit, topped by bananas (up 9 per cent from October 2017 to 86,000 tonnes), pineapples (up 23 per cent to 13,000 tonnes), kiwifruit (up 73 per cent to 9,000 tonnes) and avocados (up 20 per cent to 6,000 tonnes).
Kiwifruit continues to buck the trend of declining fruit imports in Japan, measuring an average 15 per cent rise during the ten-month period January to October 2018 compared to the prior year, the figures showed.
Commenting on the import review, Tokyo Seika Trading president Junichi 'Jack' Moriya said: "During the period January to October 2018, 95,211 metric tonnes of kiwifruit were shipped to Japan, which was a significant increase over the same period in 2017. Kiwifruit of New Zealand origin was 91,314 metric tonnes – a 96 per cent share."
New Zealand kiwifruit's 73 per cent import surge in October came hot on the heels of a record 14,461 tonnes imported in September – the highest in trade history, according to Hisao Takeda of importer Yamano Company – which represented a 204 per cent increase over the prior year, he said.
"The industry expects total kiwifruit imports in 2018 (January to December) to reach a record 100,000 tonnes, with 99,000 tonnes coming from New Zealand," Takeda told Fruitnet.
Takeda attributes New Zealand kiwifruit's success in Japan to marketer Zespri, which supplies consistent volumes of high quality fruit and implements an active marketing programme.
'[Zespri] provides more than 9,000 in-store demos at supermarkets a year,' he told Fruitnet. 'There is no price competition because there is only one importer.'