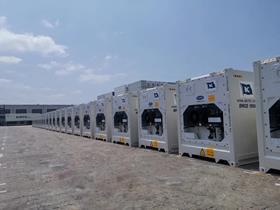 Korea Marine Transport Containers (KMTC) has expanded its refrigerated cargo fleet with the addition of 900 PrimeLine units from Carrier Transicold.
SW Nam, KMTC's general manager of equipment control team, said the new units will be valuable assets as the company looks to facilitate Asia's growing durian trade.
'Every year, we secure new reefer containers to meet the needs of our customers, offering them the highest level of performance and satisfaction," said Nam.
"This is easily achievable with the 900 new PrimeLine units by Carrier, which is especially vital to our customers in the lucrative durian market in Thailand."
The 20- and 40-foot high-cube containers will be used to transport durians from Thailand to Hong Kong and vegetables from China to South-East Asia. Durians are high-respiring fruit, consuming high levels of oxygen and releasing a large amount of carbon dioxide.
The PrimeLine unit's tight temperature controls allow the temperature to be maintained between 13–15°C, which is vital to prevent the fruit from spoiling and arriving at its destination in optimal condition.