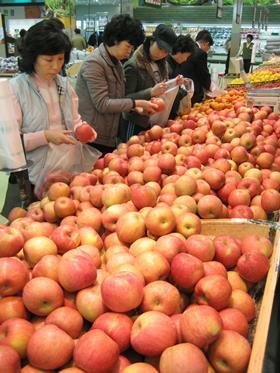 Korea's fresh apple production and consumption is projected to increase by 13 per cent to 477,200 tonnes over the 2021/22 (July – June) marketing year, after several years of gradual decline.
A USDA Foreign Agriculture Service report prepared by Sunyoung Choi states favorable weather conditions during the flowering and fruit growing seasons will see average yield increase this season.
"The average apple yield is expected to increase by 6.8 per cent," writes Choi. "Other contributing factors to higher yields were reduced outbreaks of plant disease and less pest damage in apple production regions.
"In addition, a 49 per cent market price increase during the first eight months of 2021 caused by reduced apple production in the previous year will motivate some growers to expand apple production this year."
Korea's apple planted area is also projected to increase by 5.8 per cent to 33,439 ha, driven by higher prices in the previous year (MY 2020/21) following the overall reduction of major fruit (apple, pear, peach, grape, and persimmons) production last year.
Prior to 2021, Korea's fresh apple production had gradually declined from a peak of 583,000 tonnes in 2015/16 due to stiff competition with other high-quality domestic fruits and imported fruits.
Additionally, inconsistent yet unfavourable weather conditions also caused a gradual decrease in apple production in recent years. In 2020/21, Korea's apple production decreased substantially by 21 per cent to 422,115 tonnes due to a four per cent reduction in apple planted area and a combination of cold damage during the spring season and excess rain during the summer season.
As result, the annual average retail price increased by 31 per cent to W5,801 (US$4.92) per kilogram in 2020/21 compared to the previous marketing year.
Fuji is the dominant apple cultivar grown in Korea, making up 67 per cent of the total apple production area in 2020/21. Choi said new apple varieties are being introduced steadily to the market as more consumers are demanding fresher apples rather than apples from cold storage that were produced the previous year.
These varieties will need to be domestically grown, as Korea's phytosanitary regulations do not allow the importation of fresh apples.
Meanwhile, Korea's apple consumption In 2021/22 is projected to increase by 13 per cent to 427,000 tonnes, mainly due to increased apple supply and apple quality.
As a result of increased apple supply, market prices are also expected to drop by 15 to 20 per cent to around W27,000 (US$23) per 10 fresh apples.
In terms of consumer trends, fresh apples have shifted to more of a daily dessert fruit (away from being primarily a holiday fruit) for many Korean consumers in recent years as consumers become more health conscious.
Choi refers to a recent consumer survey which confirmed most Korean consumers purchase fresh apples as a dessert fruit (70 per cent), followed by eating for health purposes (12 per cent). The survey also shows that daily consumption (82 per cent) is much higher than holiday consumption (14 per cent) in recent years due to increased demand for daily fruits and changed family composition to a more nuclear family format with an increasing ratio of single-member and double-member households.
Turning to trade, and Choi said Korean fresh apple exports for 2021/22 are projected to rebound by 75 per cent to around 2,400 tonnes due to increased domestic apple production and lower prices.
The main importing countries will be Taiwan and several southeast Asian countries, including Vietnam, Singapore, and Hong Kong, all of which are supported by the growing popularity of Korean culture and products.
Increased transportation costs stemming from the Covid-19 pandemic was raised as a potential obstacle to increasing export volume.