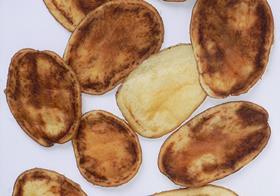 Australia's peak industry body Ausveg has pointed to South Korea's recent decision to ban US potato imports over fears of Zebra Chip disease as reason to be concerned about potential Australian access for New Zealand potatoes.
Officials from the Department of Agriculture, Fisheries and Forestry's (DAFF) Biosecurity Australia division are currently reviewing import conditions for New Zealand potatoes, and have released a draft report proposing conditions under which New Zealand potatoes could be imported for processing only.
Ausveg has accused Biosecurity Australia of relying on out-dated science in its risk analysis of Zebra Chip disease, which causes discolouration in potatoes when cooked and makes them taste unpleasant. Ausveg has stated the tomato-potato psyllid, which also exists in New Zealand, is a major threat to Australian growers as well.
The peak body says South Korea's recent decision to suspend access for US potatoes because of Zespri Chip validate the industry's concern about the disease.
"The actions of the South Korean government should set an example for DAFF Biosecurity about the appropriate level of caution when dealing with the Zebra Chip disease," said Ausveg spokesman William Churchill.
But DAFF has previously hit back at Ausveg's accusation it is not being thorough in its risk analysis, stating "nothing could be further from the truth". In a statement, DAFF explained the draft report was open to submissions from stakeholders.
"The report invites comment and any provision of scientific information that the industry believe is relevant to the biosecurity risks," the statement said. "DAFF is constantly scanning for new information relevant to biosecurity risks and also invites stakeholders to contact the department at any time with any information that they become aware of.
"The import conditions for hosts of tomato–potato psyllid and the `Zebra Chip` bacterium are based on the best available science. No information has been uncovered that suggests that the current biosecurity measures, or those proposed in the draft report, do not protect Australia."