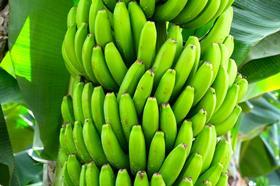 Each day since 8 January, a container of bananas from Longmate Agriculture has been sent to Vietnam. From there, the bananas will be shipped on to China, to test the export procedure ahead of direct shipment.
Longmate Agriculture, a joint venture company between Chinese and Cambodian investors, said it is trialling the export procedure ahead of the all-clear from Chinese experts who will issue an export certificate following Chinese New Year.
"We are just testing the export procedure now. We have not exported directly to China yet," said Hun Lak, director of Longmate Agriculture. "The Chinese experts will come to test the quality of our bananas in mid-February after Chinese New Year. Once they give us a certificate, we will be able to export directly and reduce costs," he said.
Lak added that the stop in Vietnam will help the company build its profile there – something it's keen to do to spread out supply. Longmate Agriculture predicts it will export 25,000 tonnes of bananas this year and plans to double that figure in 2020.
Khmer Times reported bananas will be the fourth agricultural product Cambodia can export to China, together with maize, cassava and milled rice.