Operator of Thai hypermarket chain commits significant investment to open new stores and refresh existing stores
Dozens of new Lotus's are set to open across Thailand in 2022 as part of operator Ek-Chai Distribution System's newly announced expansion plans.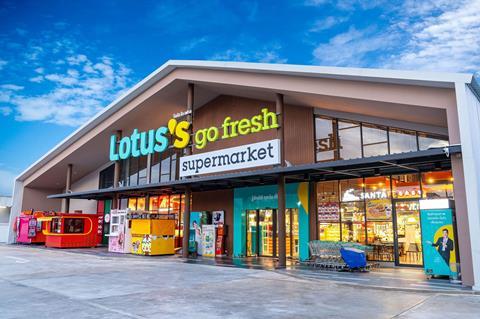 According to a report from the Bangkok Post, Ek-Chai Distribution – operator of the CP Group-owned chain – is moving forward with plans to allocate Bt12.5bn-Bt13.5bn (US$354m-US$382m) to the expansion strategy.
In the first half of 2022, the company has spent more than Bt6bn (US$170m) opening 39 new stores, introducing new store concepts and refreshing 629 existing stores. In the second half of this year the company aims to open 70-80 Lotus's stores bringing its total to 2,350.
Lotus's chief executive Sompong Rungnirattisai, said the expansion would be powered by an economy that is getting closer to normal.
"We've started to see positive signs of consumer spending since the second quarter of this year and anticipate an economic recovery in the second half of this year,'' he said.
Sompong said the company will put more focus on opening small retail formats, particularly under the Lotus's Go Fresh brand. The company plans to open 200 go fresh stores in 2023.
Omni-channel development is also part of the expansion plans as the company builds upon the launch of its Lotus's Smart App. In its first six months of operation, the app has been downloaded 4.5m times and played a pivotal role in the growth of online sales.
Sompong said the company also plans to upgrade its fresh food unit by selling imported products or premium products that fit the demand of consumers in each location.