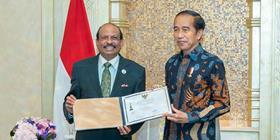 Lulu Group International has detailed plans to expand its presence in Indonesia with 30 new hypermarkets including a store in Bali.
Yusuff Ali declared the multinational's intentions in Indonesia as the company was recognised by the Indonesian governmentfor contributions to the country's economic and commercial sectors.
Lulu Groupalready has five hypermarkets located across a number of major Indonesian cities with the first opened in Jakarta in 2016.
In addition to its hypermarkets, LuLu Group also sources and exports various Indonesian products including fruits and vegetables to various countries throughout the Group's retail network.
The company's sourcing facilities in Indonesia partner with thousands of Indonesian farmers, small scale entrepreneurs, medium and large-scale factories to facilitate demand.
Ali said the company was honoured to receive thePrima Duta Award 2021, which was presented by Indonesian President Joko Widodo.
"Proud and humbled to receive one of the top honour from Indonesia and I am very much thankful to the President and the government of Indonesia. This recognition would further encourage us to have a strong presence in the commercial sector of Indonesia,"said Ali.