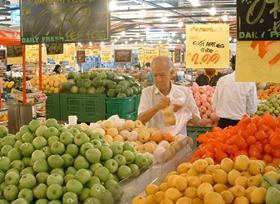 A recent report by the USDA's Foreign Agricultural Service on Malaysia's food retail market predicted it would grow by 10 per cent a year over the next three to five years, depending on broader economic growth.
The report put Malaysia's food and beverage sales at US$10-11bn in 2008, and said it had grown at 6-7 per cent a year in the last five years.
Import accounted for a hefty US$5.1bn share of total food and beverage retail sales in 2007, and data shows that figure has been rising about 20 per cent a year for the previous five years.
Malaysia's food retail sector was dominated by a collection of small players, according to the report. Small retailers accounted for 56 per cent of the market, leaving 43 per cent for supermarkets, hypermarkets and department stores.
The supermarket field is topped by the Giant chain, the report said, and targets the mass market. Tesco Malaysia was also aggressively targeting the mass market.
The Cold Storage chain targets the upper echelons of the market, and carries a large volume of imported products from the EU, North America, Australasia, South Africa and South America.
Convenience stores claimed only 1 per cent of the market share.