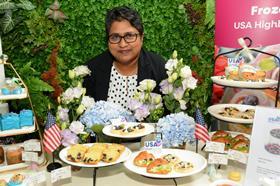 Malaysian consumers are turning to fruit and vegetables high in nutrients as they look to boost their immune systems ahead of one of the busiest periods of the year.
According to data from John Hopkins University, Malaysia's double-dose vaccination rate is nearing 80 per cent of its total population of 32.7m people (as at 10 December 2021).
But with Christmas and the Lunar New Year around the corner, consumers are looking for extra protection from Covid-19 and the newly discovered Omicron variant, which was confirmed to have arrived in the country on 2 December 2021.
Speaking to Fruitnet, Retna Malar, owner of marketing consultancy All About Fresh Produce, painted a picture of the current market trends in Malaysia.
"I do think higher priced produce will be more difficult to sell during the upcoming period, however, consumers are also looking for immune-boosting and high-nutrient fruits and vegetables as generally people want to ensure a strong and healthy body in the wake of the pandemic," Malar said.
"The market for imported fruit in Malaysia remains slow, however as it's getting closer to Christmas and Lunar New Year, retailers are gearing up with promotions and new product offers," she added.
Of those promotions, Taste Australia, will encourage Malaysians to consume stonefruit and cherries with promotions running from December to February 2022.
"There will be retail in-store promotions, influencer campaigns, high profile media campaigns, gifts with purchase promotions and, of course, social media activations," said Malar. "Taste Australia will embrace a strong health and gifting message to help drive home the premium quality of Australian-grown produce."
Meanwhile, Malar said All About Fresh Produce will be working with local importer Chop Tong Guan to promote its popular Tian Tian mandarins this season.
"Tian Tian mandarins come from China and are sold in gift packs," she highlighted. "The brand has very strong recognition amongst the Chinese community."
As for how consumers will get a hold of the produce, Malar said online purchasing remains an underdeveloped avenue, estimated to be around 10 per cent of total fresh produce sales.
"The pandemic has impacted sales tremendously as prices of produce have increased, in-store supermarket activities have reduced a lot, and generally there are fewer customers in supermarkets.
"Despite vaccinations, other factors such as price increases, and supply inconsistencies due to labour and logistics have impacted overall sales," Malar said.
"The good news though is that it will get better as the public are more confident to go out to shop and dine out. Shopping malls are filled (but not as much as was seen pre-pandemic). Booster shots are being administered here in Malaysia (currently 9.6 per cent of eligible citizens have received a booster shot) and our health authorities are very vigilant about the Omicron variant," Malar concluded.
For more on the Lunar New Year festivities, read Asiafruit December / January 2022, out soon.