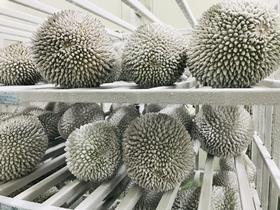 Malaysian authorities have forecast the country's durian production is expected to increase to 443,000 metric tonnes by 2030.
According to a report from the Malay Mail, Khalid Ibrahim, marketing and export division secretary of Ministry of Agriculture and Food Industries (MAFI), said the projection is based on 2019 data, which saw Malaysia record 72,536ha of durian cultivation and production of 384,170 tonnes.
Khalid said export demand has and would continue to drive the industry's growth. He noted in 2018, 23,381 tonnes of durian worth RM118.2m (US$28.5m) was exported to the country's five major export destinations for durian: Singapore, Hong Kong, US, China and Vietnam.
At the end of last year MAFI had outlined plans to establish a durian-tourism industry to attract foreign tourists but the Covid-19 pandemic had caused delays.
However, Khalid was enthusiastic about new plans to promote Malaysian durian using social media in cooperation with local university students from China.
"During the Durio Tour @ Raub 2020 programme, MAFI brought six China international students, five media influencers and two Chinese embassy representatives on an orchard and durian discovery," Khalid said.
"These social media influencers have hundreds of thousands of followers. I think that their videos will go viral here and in China."
It is hoped that these efforts will support Malaysia's push to increase the demand and value of durian to China and show international consumers how to tell the Musang King and other durian varieties available in the market apart.