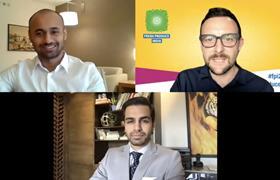 The rising power of B2C marketing was examined during the second session of Fresh Produce India 2021.
Through a series of case studies, delegates heard how the country's leading fresh produce distributors and suppliers are increasingly marketing their brands direct to consumers.
One such company is importer-distributor Suri Agro Fresh, who has relaunched its Enjoy brand as a consumer-facing lifestyle brand focused on health and wellbeing.
Suri Agro Fresh's Rahul Dey said while the move had been in the works prior to the outbreak of Covid-19, the pandemic accelerated the company's shift towards consumer-centric marketing.
"What Covid-19 did was reassure our belief that it's important for us to live a healthy lifestyle," Dey explained. "We reached a point where we thought the brand should cater to our consumers as a healthy lifestyle brand.
"It was all about providing our consumers with a basket of fruit that will help them live a wholesome, healthy life."
The Enjoy brand has been rolled out to consumers via a mix of physical and digital activations.
"Our primary contact with the consumers is at the point of purchase, whether that be a traditional retail stall or an organised retail shop," Dey said. "We are going to be heavily present in the digital marketing channels as well to create awareness for the brand."
Suri Agro has worked hard to differentiate its brand from other consumer-facing labels in the Indian market.
"In terms of messaging, we don't want be a typical fruit brand where we are explaining to our consumers what the functional benefits of our fruit is. Rather, we will tell our consumers how it will add value to their lives – how it will make their lives wholesome, how it will uplift their lives."
Rockit on good wicket
Suri Agro partnered with Rockit Global to launch the miniature Rockit apple in India last year.
Rockit Global's general manager of global sales, Mark Pay, told delegates about his company's plans for the Indian market, along with its global brand ambassador partnership with Kane Williamson, captain of New Zealand's men's cricket team.
Williamson, who also plays for Indian Premier League team Sunrisers Hyderabad, will form a valuable part of Rockit's consumer direct marketing plans in India.
"He's got over 1m fans on Instagram and other social media platforms, so we're able to connect with consumers over different points along the journey – for example, when we launch and when our fruit becomes available in market," Pay said. "It's not only giving us a wider audience; it's starting conversations with consumers."
Snack attack
The session on B2C marketing continued with a case study from Rijk Zwaan, who has identified an increasing trend towards healthy snacking in the Indian market.
To capitalise on the this opening, the leading seed breeder recently launched it Sn!bs range of snacking vegetables at Spar stores across India.
Rijk Zwaan's chain manager for India, Ajit Bisoi, and Spar India's head of fresh fruit and vegetables, Venkatareddy TG, discussed how the partnership has harnessed consumer direct marketing to increase awareness and drive repeat sales of Sn!bs lines.
"We are placing skilled promoters in Spar stores so that they can explain the USP (unique selling points) of the product, like the nutritional value of the vegetables," said Bisoi.
"We're also doing some sampling, so the customers can taste and feel the difference between whole-snack vegetables and fresh cut salad vegetables.
"This is all being done in association with Spar. Venkatareddy and his team are ensuring the customer can easily look at the product and catch it."