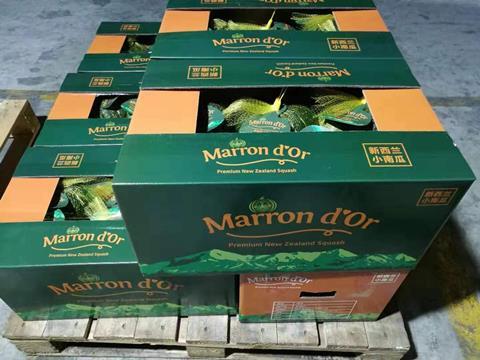 If first impressions count, Aozora New Zealand is onto a winner with Marron d'Or. Launched last year, the boutique brand of New Zealand-grown buttercup squash has drawn the attention of high-end consumers in Japan, China and Korea.
"Marron d'Or, grown exclusively in New Zealand by Bostock New Zealand and Leaderbrand New Zealand, was an outstanding success last year, outperforming other mainstream varieties for quality, price, and consumer feedback," said Robert Buchanan, international trade manager at Aozora New Zealand.
"We have had noticeable pick-up of the brand on social media in Japan, and have heavily promoted the brand in-store in China. The variety is renowned for its dark colour, nutty flavour, and storability."
Hoping to build on its initial success, Aozora's in-market partners will pack and deliver premium New Zealand-grown squash in specialised Marron d'Or cartons this season. Fresh materials have also been developed to aid in-store and social media promotions.
After a bumper crop in 2019, Buchanan says yields out of New Zealand will be more in-line with historical averages this season.
Picking began with early season Ebisu in Gisborne in mid-December. Harvesting of regular season Ebisu got under way in early January, with dry type varieties following from late January.
"We are very excited about the prospects for New Zealand squash for both this year and beyond," said Buchanan.