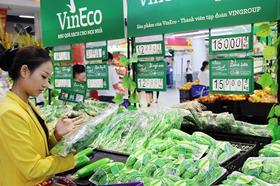 Masan Group Corporation and Vingroup will merge parts of their companies to create Vietnam's largest consumer goods and retail group.
According to an MOU signed by the two companies, VinCommerce and VinEco, the retail and agriculture units of VinGroup, will merge with Masan Consumer Holdings, the consumer goods subsidiary of Masan Group.
Vingroup will swap its shares in VinCommerce into the newly created company post-merger. Masan Group will operate the company, while Vingroup will be a shareholder.
The new company will own a distribution network of 2,600 VinMart and VinMart+ stores in 50 provinces, VinEco's 14 high-tech farms of and Masan Consumer's footprint as one of the largest branded food and beverage companies in Vietnam.
Truong Cong Thang, chairman of board of directors of Masan Consumer, said the new company will build what Vingroup has been able to achieve in these two divisions.
"Vingroup has completed its mission to create the pioneer and most effective clean agriculture and retail system in Vietnam. And now we will carry this flag to continue our mission to serve consumers while ensuring a fair retail market for Vietnamese manufacturers," said Truong.
"At the same time, the accession of VinCommerce and VinEco not only resonates and enhances the value of Masan's core competencies, but also helps us to quickly achieve our goal of becoming the leading domestic retail and consumption group and aim to extend our boundaries to the world."