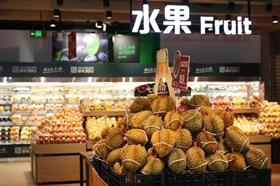 JD.com has recorded a record-breaking 2021 Singles Day grand promotion announcing a transaction volume of Rmb 349.1bn (US$54.6bn) for the unofficial Chinese shopping holiday.
The grand promotion ran for 11 days ending at midnight on Singles Day (11 November), and featured the most merchants and brands in JD's history.
Even in during the pre-sale for the grand promotion (20 October to 31 October) Chinese consumers sought out their favourite brands, including fresh produce.
"The volume of agricultural products exceeded the daily average sales in October by 5.8 times. Compared with the pre-sales in previous years, the agricultural products snapped up by consumers showed the characteristics of 'branding of origin,' 'nutrition upgrade,' and 'popularity of rare agricultural products'," said JD in a press release.
The e-commerce giant also used Singles Day as an opportunity to highlight its growth in other areas. On 11 November. Japanese retailer Muji and JD.com's Seven Fresh jointly launched a fresh food complex in Shanghai, marking the first appearance of the fresh food supermarket in the city.
During this Singles Day, JD also officially launched a smart supply chain centre in Wugong county in Shaanxi province.
Integrating functions of procurement, cold-chain warehousing, processing, sorting, packaging and fulfillment, it connects the agricultural industry belts in northwestern China. On the night of 10 November, the centre processed its one-millionth order.