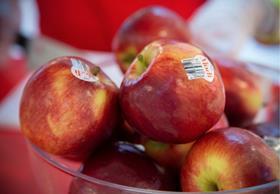 Freshmax Australia has announced a new corporate partnership with Breast Cancer Network Australia (BCNA) for the 2020 Modi apple marketing campaign.
The programme will focus on a holistic approach towards aligning the brand identity of Modi with the vision of BCNA, a leading breast cancer organisation that works to ensure Australians affected by the disease receive the best possible care, treatment and support.
"We are humbled and thrilled that Modi Apple has the chance to make a difference in the lives of Australians, especially during these difficult times. It's ever so important that we re-evaluate our marketing strategy and explore opportunities outside the commercial spectrum," said Sona Padman, national marketing manager - Freshmax Direct.
"As an integral part of the 2020 campaign, we will be putting our partnership with BCNA at the forefront of all our marketing activities. All collaterals, including packaging, will bear the BCNA logo.
"We will also be creating a fundraising campaign on our social media channels and YouTube, encouraging people to donate to this amazing cause. This all happens in conjunction with a targeted multi-channel campaign with BCNA."
The commitment of BCNA to innovate, support and advocate remains steadfast as it heads into its 22nd year in 2020. BCNA chief executive Kirsten Pilatti said the organisation is relying more than ever on the support of partners and the community to continue its efforts.
"Covid-19 has changed life as we know it for the foreseeable future," Pilatti said. "The global spread of the virus is alarming, and every day we hear first-hand the effect this pandemic is having on people who are already vulnerable, highlighting that Australians affected by breast cancer need us now more than ever.
"We are delighted to be associating with Modi as new partnerships like this enable us to continue to offer resources like our telephone helpline and My Journey online tool to provide up-to-date information and support, more so vital during times like these. BCNA is excited to play such a vital role in Modi Apple's new marketing campaign, which will help those affected by breast cancer get the support they need."
Conceived and developed by CIV in Italy, Modi is a branded apple offering licensed to be marketed by the Freshmax Group in Australia.