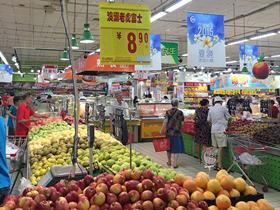 Yonghui Fresh Food, the fresh produce business-to-business (B2B) platform of Yonghui Superstores, has raised US$153m in a new round of funding.
The platform secured investment from a range of backers led by technology giant Tencent and CICC Capital's sub-fund CICC Qizhi.
These investors will join Yonghui Superstores— the parent company of Yonghui Fresh Food — and Hillhouse Capital and Sequoia Capital China who provided were among the group that provided US$145m Series A funding in 2018.
Upon completion of the latest transaction, Yonghui Superstores will remain the largest shareholder in Yonghui Fresh Food with a 32.33 per cent stake, a reduction of 2.67 per cent. Followed by Hillhouse Capital with 26.8 per cent and Sequoia Capital Chinawith 13.40 per cent.