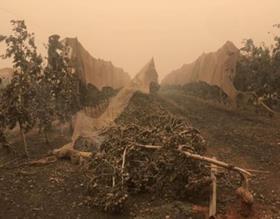 Leading Australian fresh produce company N&A Group has reported significant damage to one of its apple orchards in Batlow, New South Wales (NSW), following fires throughout the Snowy Mountains region this week.
"On Saturday, 4 January, the Dunns Rd Fire, which had been threatening the Batlow region throughout the week prior, unfortunately moved through our growing operation Ardrossan Orchards on Old Tumbarumba Road in Batlow, NSW," the company said in a statement.
"It is with both sadness and relief that we report whilst we suffered significant damage to parts of our orchard at our 'Woodburn' property, we feel fortunate and grateful that no major infrastructure or trees were damaged at our 'Ardrossan' and 'Gocup' properties."
While N&A Group faces the difficult task of recovering from the fire in the coming weeks, it remains focused on delivering a high-quality apple crop in 2020, with picking set to begin in late February.
"Looking to the future we are committed to regenerating and replanting blocks of our orchards that were destroyed by the fires," the release added.
The company paid tribute to the men and women who helped protect its orchards and the wider Batlow community.
"We are incredibly proud of all the volunteers who worked day and night throughout the week to successfully protect large areas of our orchards, our homes and our packing and cool storage facilities here in Batlow," N&A Group said. "We are sincerely grateful to our staff, friends, neighbours and family that helped protect our trees and property.
"We'd also like to thank everyone in the Batlow community, the apple and pear industry, everyone throughout the supply chain and our customers that have made generous offers of assistance."