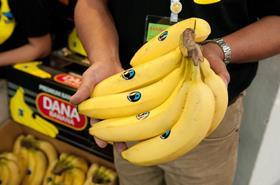 Philippine banana marketer Nader & Ebrahim S/O Hassan Philippines (NEH) displayed Asia's first Fair Trade bananas last week at ASIA FRUIT LOGISTICA.
The company spent three years getting Fair Trade certification for its first 50ha, the production from which it will use to gauge market demand across Asia.
"We've just got the certification done in the last quarter," NEH's general manager Jeroen de Haas told Fruitnet.com. "It's the first `Fair Trade` banana certification in Asia – it's something new."
NEH is currently working with retailers and importers in Japan and South Korea on the new product, and Mr de Haas said the bananas had received interest from Hong Kong, Singaporean and European importers during ASIA FRUIT LOGISTICA.
The bananas will be marketed under NEH's own Dana label, as well as potentially under retailers' own brands.
Japan is seen as the obvious initial market for the Fair Trade bananas, and NEH is aiming them at the existing premium banana category in the market, which retail for around ¥200-300 per kg, according to Mr de Haas.
"We're going to launch the bananas in Japan; we're doing market research in Japan, and marketing will start there in October in Aeon supermarkets," he said.
The Fair Trade bananas will be priced at a premium, but Mr de Haas explained most of the increased return will go straight back to farmers in accordance with the Fair Trade certification.
"We will not make more, but the growers will, which is what it's all about," he said. "We hope we can trigger a change in the Philippine banana industry. If 10-20 per cent of growers became Fair Trade, that would be fantastic."
NEH has several other contracted growers that are being groomed for Fair Trade certification in case demand warrants further supplies. The certification process of those growers is expected to take 6-12 months.