Syngenta Group China's MAP Luochuan Complete Industry Chain Service Centre supports the development of the Luochuan apple industry
A ceremonial event to mark the MAP 9.9 Harvest Festival as well as the upgrade of the Luochuan apple industrial complex took place in Luochuan, a renowned apple producing region in China, on 28 September.
More than 20 leading fresh produce distributors and retailers attended the celebration including Goodfarmer, Joy Wing Mau, Dole, Dingdong, Benlai, Well Fruit and many more. The event also celebrated the launch of Syngenta Group China's MAP Luochuan Complete Industry Chain Service Centre.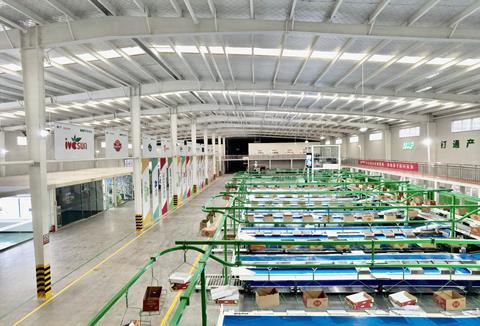 A holistic approach
In his speech at the event, Zhang Zhao, cash crop general manager at MAP, said Syngenta Group China's MAP business had been operating in Luochuan for four years, servicing 3,076 local farmers with an overall planting area of 18,456mu (1,230ha).
After more than a year of preparation, construction of the MAP Luochuan Complete Industry Chain Service Centre has now been completed. The 32mu (2.1ha) facility is equipped with Reemoon's latest 7.0 two-lane photoelectric sorter, which has the capacity to process four tonnes of fruit per hour and 5,000 tonnes annually. The centre's 4,000-tonne cold storage unit is also equipped with advanced modified atmosphere technology.
"The centre affords us more possibilities in the ways we can service fruit companies. The application of MAP beSide's whole-process quality control tracing solutions in particular, will bring the needed change to the conventional hand-sorting of agri-products by feel," Zhang said.
With the help of MAP beSide, consumers can access all the information throughout a product's lifecycle by simply scanning its QR code.
During the event, MAP showcased a wide range of premium fresh produce products from its demonstration farms, many of which were brought into China by Syngenta Group China from North America, New Zealand, Japan and other countries.
According to the company, more MAP centres will be constructed nationwide to service local growers with a focus on key crops such as apples, citrus, grapes, corn and pumpkins.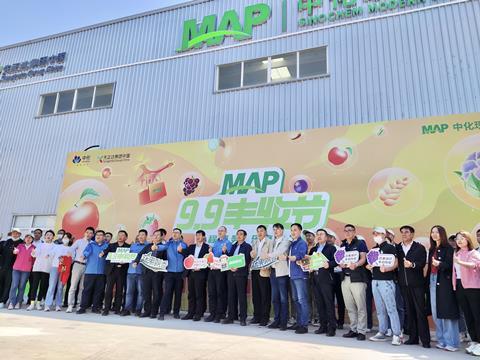 Standardising production
MAP strives for industry chain integration, variety development, quality improvement, brand development and standardised production. By working with MAP, fresh produce packers, processors and retailers can achieve fruit supply of stable quality, reduce procurement risks as well as operational costs.
MAP provides tailor-made value-added MAP beSide services to partners across the value chain. For example, a farm established entirely within the MAP beSide ecosystem can enhance quality assurance, traceability, deliverability and brand image for growers, bringing premium to their fruit price.
MAP beSide's full traceability also means it can gather consumer preferences and feedback to realise market-oriented production. With improved precision, specialty agri-products can be produced to fully satisfy consumer demand, thus creating a virtuous circle for the agricultural industry.
Contact
Lin Yongshun
MAP cash crop director