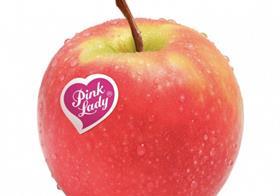 Apple & Pear Australia (APAL) is coordinating a "targeted, controlled" programme for Pink Lady-branded apples in India.
The South Asian nation is set to import 35 containers of Pink Lady in 2021, sourced from France, New Zealand, Brazil and Australia.
APAL – which owns and manages the Pink Lady trademark – has developed a year-long export strategy, which includes product promotions and brand activations.
The move is aimed at elevating Pink Lady imports beyond seasonaltrade, with APAL hoping to capitalise on an opening in the market.
"With the terrible situation Covid has presented India, their domestic supply isn't as plentiful as previous crops, sotheyare looking to fill their basket with imported fruits," Justin Smith, APAL's industry services and export manager, said in a report on the APAL website.
"They are looking for something new and Pink Ladyapples are a very different apple forthem.Until recently, their idea of a premium branded important apple was a Red Deliciousimported from the US–known asa Washington Apple in India – so they are a relatively new market for branded varieties."
APAL'sglobal marketing and territory management teams will work with global licensed Pink Ladyexporters and key licensed Indian importers and distributors to implement the export strategy.
AndrewMandemaker, APAL's head of quality,said ensuring correct storage and transportation of the fruit within India, along with its presentation in retail outlets, would be key to maintaining the premium perception of the managed variety.
"When undertaking an export program such as this, it is vital that the globalqualitystandards of Pink Ladyare maintained, and that requires close attention to the entire supply chain," Mandemaker explained.
"It also requires investment in consumer engagement and communications to ensure they receivea great eatingexperience."
APAL funds promotional and marketing activities for Pink Lady in new and emerging markets through Pink Lady Developments, a joint venture with Star Fruits.
These funds, in conjunction with the Pink Lady Selective Market Supply Program(SMSP) and APAL's territory management team, assist exporters enter and stay in these markets.
Smith said securing a place for Pink Lady in India was a high priority.
"India is a very important growth market for Pink Ladyapples," Smith said. "In the coming years, India will outgrow China, but more importantly, 50 per cent of their population is under the age of 24 and the majority of them believe imported fruit tastes better."