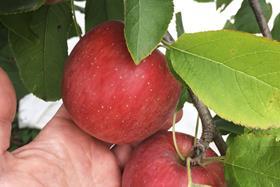 New Zealand's apple and pear growers have expressed optimism about the upcoming crop as they prepare for another Covid-19 affected season.
The 2021 season was one of the industry's most challenging but according to a pre-season update from Vanguard, things are tracking well for the 2022 deal.
"As the New Zealand team moves closer to the start of harvest for 2022, the outlook and projections are positive and exciting," said Luis Gonzalez who manages Vanguard's New Zealand procurement and sales.
"The overall growing season was very good with no major inclement events that could compromise the quality and condition of the fruit. We expect great quality and condition to be the theme of the 2022 New Zealand apple and pear season."
Official apple crop estimates have not been released but sizing is expected to be one size larger than in 2021 across all varieties and the industry should have no issues achieving 23m cartons of apples packed in 2022.
"Pear harvest is scheduled to start during week 4 and apples weeks 6-7. Most packers will start running Galas during week 8, but with peak volumes around week 9-10 depending on further developments in the orchards," said Gonzalez.
Covid-19 will again have significant influence on the outcome of the season although signs are more positive this year. While there are still labour shortages the issue has improved year-on-year, freight costs are also up but the level of disruption will become clearer once the season begins.
"Aside from the increased costs, the overall outlook for 2022 is very positive. We are eagerly watching market behaviour, demand patterns, vessel schedules, container availability, and the constantly changing Covid environment," said Gonzalez.