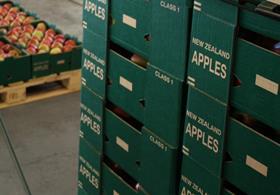 New Zealand's apple and pear industry has welcomed updates to the country's free trade agreement (FTA) with China.
According to Radio NZ, improvements to the trade deal will include faster border release of fresh food products. Compliance costs for New Zealand exports are also set to be slashed by millions of dollars each year.
"In 2019, over half of our exports have gone to Asia, with China becoming our second largest market," said Alan Pollard, chief executive of peak industry body NZ Apples & Pears. "Retaining a high-quality agreement with China is critical for us to maintain our advantage in that market, and the outcome reflects the very positive relationship that exists between our two governments."
Pollard praised efforts made by New Zealand's federal government to improve the terms of the FTA, while also highlighting progress made towards the Regional Comprehensive Economic Partnership (RCEP).
"With the RCEP covering around half the world's population, and the hope that India (who we are yet to conclude a bilateral agreement with) will reconsider its participation at a later date, the opportunities that these agreements present for our industry are substantial," Pollard said.
New Zealand apple and pear exports are forecast to reach almost 400,000 tonnes in 2019, the largest export volume in the industry's history.
"In 2013, the industry set a target of being a NZ$1bn export industry by 2022 and we are well on track to achieve that," Pollard says.
"The government's success in achieving very good trade and market access outcomes gives industry confidence to continue to invest in new plantings and new technologies to ensure that we can take advantage of these opportunities as they open up. If we can't meet that increasing demand our competitors will."