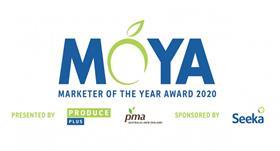 Don't miss your opportunity to celebrate marketing excellence with the presentation of the PMA-Produce Plus Marketer of the Year Award (MOYA), proudly sponsored by Seeka.
With the Hort Connections trade show and conference postponed until 2021, the MOYA 2020 winner will be crowned via a webinar, which will stream live at 10am AEST on 16 June.
The five MOYA 2020 finalists will have the opportunity to present key elements of their campaigns during the webinar, with the winner announced at the conclusion of the online showcase. The webinar is free to attend.
The MOYA 2020 finalists are:
•Costa Tomatoes for the 'Perino – Snack Attack' campaign
•Sona Padman from Freshmax Australia for the 'Modi Apples' campaign
• Pinnacle Fresh for the 'Dracula Citrus' campaign
• Driscoll's Marketing Team for the 'Only the Finest' campaign
• Sydney Markets' Marketing Team for the 'Eat Fresh & Win' campaig
Register for FREE to join the MOYA 2020 Showcase https://www.pma.com/global-pma/anz/events/2020/moya-showcase