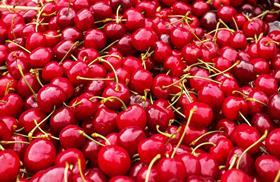 A USDA report has highlighted the opportunities available in online marketing for cherry exporters targeting Taiwan.
The report noted that in 2020 the use of online platforms to sell fruit has increased due to Covid-19 and the changes the pandemic has brought.
"While wet markets play a vital role in distribution, increasingly wholesalers market through hypermarkets and online shopping websites," the report said.
"Home delivery has become an important channel for fresh fruit, including stonefruit, with grocers and major retailers increasingly offering delivery services."
The report forecasts Taiwan's cherry imports for the marketing year beginning 1 April 2020 to reach 12,000 tonnes, slightly up from the 11,199 tonnes in 2019.
In 2019 the US remained the main supplier of cherries with a 71 per cent market share, this increased from 66 per cent in 2018, a change resulting from from reduced southern hemisphere supply.
"The United States remained the number one supplier to Taiwan and increased market share due to rains in competitors Japan and New Zealand and major economic/political unrest in Chile," the report said.
"Robust handling of the Covid-19 pandemic has supported a modest recovery in consumption and, relative to most other export destinations, Taiwan will be quite competitive."