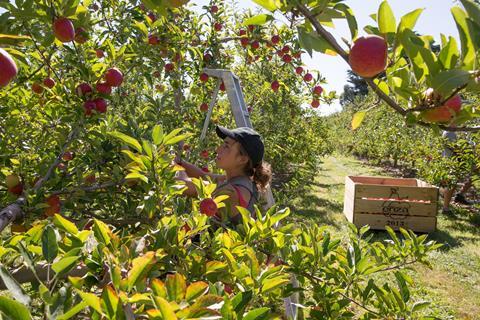 New Zealand's apple and pear industry is remaining defiant by adopting a 'wait and see' approach as the uncertainty caused by COVID-19 continues.
Sales at wholesale markets and retail channels have reportedly dropped, with online retail remaining strong.
Harvest of early season varieties has begun, with T&G's head of corporate affairs, Adrienne Sharp, confirming the first shipment of its Hawkes Bay Royal Gala was sent on February 17.
Alan Pollard, chief executive of peak industry body New Zealand apples and pears (NZAPI), said they were aware of delays in China.
"Some products have already been airfreighted to China and distributed via usual distribution channels. The extended Chinese New Year is now finished, but we are aware of some backlog at the ports, which is causing clearances to take longer than usual," said Pollard.
"Some shipping lines have altered their schedules which may have an impact on access to shipping capacity," he added.
Sharp added that T&G are continuing to monitor the situation closely, "The economic activity in China has slowed. While online channels remain robust, we are noticing that both the wholesale and retail channels have been disrupted due to low customer numbers and operational constraints in being able to service and process orders," she noted.
"To balance out the disrupted sales patterns, we are developing alternative sales plans in a range of regions and markets for our New Zealand exports.
"Other South East Asia, North Asia, Middle East and developing markets, while taking some precautions, are trading well. And other than usual market factors, sales in our US, Europe and United Kingdom markets are not affected," added Sharp.
New Zealand's largest apple producer and exporter, Mr Apple, remains committed to China, with the company working closely with its key customers, according to Ben McLeod, manager of global sales and marketing.
"In a normal season, our China sales are split across both online and offline channels and we expect this to continue this season as the virus situation resolves," said McLeod.
"We do anticipate there will be more of an online push early on and we're equipped to support our customers in this area."
McLeod noted that he expects consumers will "demand better food safety and traceability on all food products," as a result of the Coronavirus outbreak.
He said the company's plans to develop an authenticity verification programme for its produce would likely become a key focus this season.
"Driven by QR codes on fruit, consumers can scan the code and see confirmation of the apple's New Zealand origin and know it is an authentic Mr Apple apple," said McLeod.
"This will be a trial in 2020 with the goal of looking at a more significant roll out in 2021."
The season has only just begun for New Zealand apple and pear growers, with Sharp remaining confident the market would recover in time for peak availability.
"Our expectation is that by the end of the second financial quarter, we will be trading under regular patterns and this is when the majority of our Envy apple supply becomes available," she said.