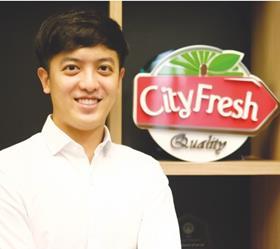 Despite the difficulties caused by the pandemic, including supply chain congestion and a limited consumer budget, the demand for imported fruit in Thailand has remained steady according to one of the country's leading importers.
Managing director of Cititex, Wongsakorn Chatamornwong (pictured), told Fruitnet the lead up to the Lunar New Year period has been decent, and that he expects the next two months to be good thanks in part to the holiday season.
"Apple sales have been pretty strong since October as there have been limited supply coming into market due to logistics challenges and it is always the biggest commodity during festive period," Chatamornwong said.
"We think it will be the same for this upcoming festive period. We are seeing more purchases being made online and this e-commerce area is still growing.
"The Covid-19 situation has been stable recently and unless there are unexpected occurrences, we don't expect dramatic impact of Covid-19 on sales ahead of the Lunar New Year," he adds.
As such, Chatamornwong said Cititex will be allocating a large portion of its 2022 marketing budget to online channels.
"Over the coming weeks we'll look to promote cherries from various origins online, as they are in season," he said.
Read our full report on the market for imported fruit in South-East Asia in the December / January issue of Asiafruit Magazine, out now