Chinese fruit retailer's stock price rises more than 20 per cent during first day of trading on the Stock Exchange of Hong Kong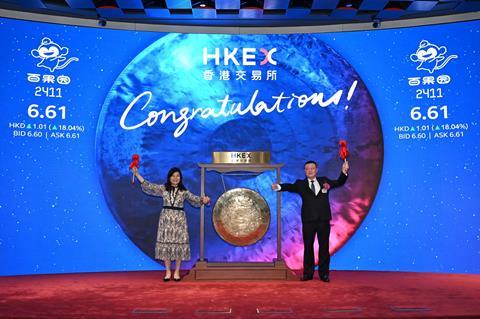 Pagoda has successfully completed its IPO raising HK$366.1m (US$46.8m) while its share price rose more than 20 per cent on its first day of trading on the Stock Exchange of Hong Kong.
The leading Chinese fruit retailer sold 78,947,500 shares in its IPO before it began trading on Monday 16 January.
Pagoda held listing ceremonies in Hong Kong and Shenzhen to celebrate the milestone and according to Wind Economic Database its stock price rose to HK$6.75 after opening at HK$5.60, an increase of more than 20 per cent. Its total market value reached approximately HK$10.6bn (US$1.3bn).
The company said it would use its listing to help seize development opportunities in the capital market and to continue to grow and expand its business. It wants to empower its partners and continue to develop the entire value chain. Pagoda's goal is to become the world's largest fruit retailer in terms of sales volume, population service and range of fruit products and brands.
Established in 2001 Pagoda has an offline network of 5,645 stores, covering more than 140 cities in 22 provinces and cities across the country. This is backed by one of the largest distribution networks in the domestic fruit industry.
Despite the disruption of the pandemic, Pagoda has maintained a positive growth trajectory, in the first half of 2022 its operating income increased 7 per cent year-on-year to Rmb5.915bn (US$878m) and its adjusted net profit was Rmb205m (US$30m), a year-on-year increase of 34 per cent. In the past three years it added over a thousand brick-and-mortar stores mainly in residential areas, commercial streets and other high-traffic areas.
At the same time, it has rapidly expanded it online, developing a range of sales channels including a Pagoda app, WeChat applets and official flagship stores on major e-commerce sites such as Tmall, JD.com and Douyin.