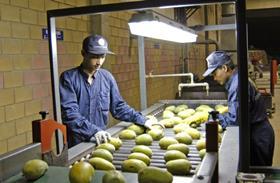 Pakistani mangoes may soon have access to Japan after many years of negotiation, according to local media.
The results of a visit last August by Japanese officials and importers to a Pakistani mango packing facility and vapour heat treatment (VHT) plant are expected to facilitate access soon, reported Pakistan's The News.
Pakistani mangoes have had no access to the Japanese market because of fruit fly concerns, but the country's increasing VHT capacity is expected to open the door.
The Japanese government is close to lifting the ban, according to Rehman Hamid, commercial secretary at the Pakistani embassy in Tokyo.
Mr Hamid told The News Japan would be a huge market for Pakistan's mango exports.
Japan's Trade Minister Tashihiro Nikai told Pakistan's President Asif Ali Zardari last April that the Japanese government would facilitate the import of mangoes from Pakistan through the private sector following the inspection of Pakistan's treatment facilities by the Japan External Trade Organisation (JETRO).
Japanese authorities have accepted those inspection reports, according to The News, and the administrative processes required to open the market from this point are relatively minor.
Pakistan is the world's third-largest mango producer, and already exports mangoes to the Middle East, parts of Europe and Asia, and recently the US with the opening of a new fruit irradiation facility.
Mango exports in 2009 hit a record of 132,000 tonnes, well over the target of 124,000 tonnes set by the Pakistan Horticulture Board prior to the season.