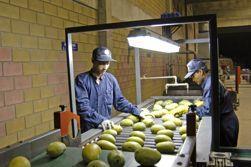 Despite facing a number of logistics challenges in the latter part of 2012 Pakistan's fruit and vegetable exports in the first five months of the financial year have registered solid growth.
The South Asian country's fruit exports increased 4.3 per cent by value to 150,624 tonnes worth US$102.72m over July-November compared to the same period the year before, according to Pakistan Bureau of Statistics (PBS) data.
The figures translate to an interesting turnaround in values. Pakistan's fruit export volumes for the period in 2011 were higher at 175,123 tonnes, but yielded only US$98.3m in sales.
Vegetable exports rose more significantly by 34.11 per cent to US$46.69m for 97,928 tonnes, reported Pakistan Today.
Results for the rest of the financial year will be marred by an 11-day transport strike in the first half of December, which is thought to have cost Pakistan US$800m in lost exports.