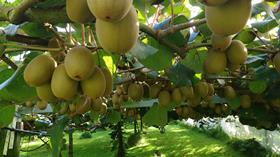 A kiwifruit grower accused of smuggling Zespri's proprietary plant material into China may have been plotting a similar scheme in Australia, a New Zealand court has heard.
Haoyu Gao, along with his wife Xia Xue and their company Smiling Face, are the subjects of the High Court hearing, in which Zespri alleges its trademarked plant material was illegally taken, transported and planted across 167ha in China.
The single-desk marketer is seeking NZ$30m in damages, citing breaches under New Zealand's Plant Variety Rights Act, along with its own intellectual property rights.
The unauthorised plantings of Gold3 (the variety marketed as SunGold) were discovered in China during 2016.
Zespri linked Gao to the breach after an image of his New Zealand grower number surfaced in a WeChat group discussion related to the incident.
According to a report from Newsroom, Zespri is alleging Gao entered into a falsified contract with Chinese grower Changqing Shu, which included the provision for Shu to sell the plant material across the Asian nation.
'Our action in bringing this case reflects our strong desire to send a clear message that we will vigourously protect intellectual property for our growers in New Zealand and offshore,' Zespri said in a statement.
'We are seeking at least NZ$30 million in damages, which has been calculated based on the licence value of SunGold licences in New Zealand and the loss of opportunity for Zespri to licence them in China."
During this week's trial, Zespri's global productionmanager Shane Max said the marketer had evidence to suggest Gao had also contrived a plan to illegally send Gold3 and Gold9 plant material to a grower in Australia.
Documents obtained under New Zealand's Official Information Act are said to reveal details of a conversation between Gao and another unnamed man about the best way to ship the plant material across the Tasman Sea.
Gao's lawyers said their client had only discussed growing techniques for gold kiwifruit in the cited communications and had denied all involvement in shipping plant material illegally.
Gao is not currently facing any charges related to the matter in China.