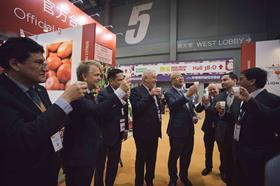 Peru's participation at this year's Asia Fruit Logistica generated an estimated US$180m of business, according to the Association of Agricultural Producer Guilds of Peru (AGAP).
"We feel that this fair is ours," AGAP's executive director Gabriel Amaro told Fruitnet.
"The Peruvian pavilion was one of the busiest [at the fair] and this is a sign of our recognition and importance in Asia."
Peru's exports to Asia have risen exponentially since 2005 thanks to a strategy that has prioritised the region.
"With 21 trade agreements in force, six more to come and five currently under negotiation, we continue to work on consolidating and advancing our agri-food exports in Asia," said Mario Ocharán, export director at PromPerú.
Table grapes, avocados, Brazil nuts, blueberries and bananas are among the main products that Peru exports to Asia.
Shipments are on course to increase sharply in 2019 thanks to the imminent opening of the Taiwanese, Malaysian and Philippine markets to avocados; Japan and the Philippines for grapes; China and Indonesia for pomegranates; India and Malaysia for blueberries; and Vietnam and India for citrus.
Peru exported US$6.626bn of agricultural products last year. Fruit and vegetables, which accounted for the biggest share of agri-exports, grew by 19 per cent.
Exports of products sold under the Superfoods from Peru label increased by 4.8 per cent in the first half of 2019, reaching US$1.979bn.