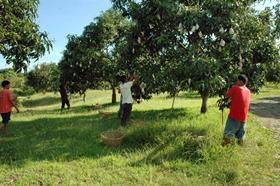 On Mindanao, the Philippines' second-largest island, mango growers are collaborating as they develop the area's export capabilities with some help from New Zealand.
Growers came together at the Mindanao Fresh Mango Producers Forum organised by the Mindanao Development Authority (MinDA) and the Philippine Department of Agriculture.
There, they discussed issues facing the industry and formed a new industry body to help them tap into high-value international markets, according to the Philippine News Agency (PNA).
Emmanuel Piñol, secretary of MinDA, said the new body will help Mindanao growers achieve common goals.
"We are looking forward to having this venue as the birthplace of a more organised, dedicated council with a common vision. The ONE Mindanao Mango Industry Council is an organization that will carry the hopes and dreams of all mango players in Mindanao,"Piñol told PNA.
MinDA also said the agreements and insights generated at the forum will serve as inputs to an ongoing feasibility study on the quality assurance system for fresh mangoes being conducted by the New Zealand embassy.
The New Zealand embassy has been working with MinDA and New Zealand Government-Government (G2G) Partnerships Office (NZ G2G Partnerships) to strengthen the island's fresh fruit industry, particularly its export capabilities.
Tim Stewardson, deputy head of mission of the New Zealand Embassy, told PNA that mangoes were one of the fruits in Mindanao struggling to reach lucrative international markets, such as New Zealand and Japan.
"New Zealand has a lot of experiences in agriculture and we want to share that, with focus on Mindanao, given its agriculture and agribusiness potentials," said Stewardson.
To help growers maximise this potential, NZ G2G Partnerships is undertaking a co-investment project with the Philippine government and industry players, according to MinDA.
This project is targeted at helping Mindanao's mango sector to comply with the strict maximum residue level requirements of these markets.