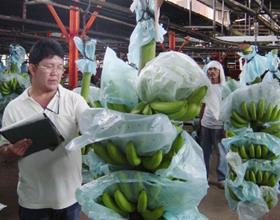 The Philippines' Department of Agriculture has announced PHP102m (US$2.3m) infunds to address disease damaging the country's banana industry.
The funds will be used for the early detection of fusarium wilt, also known as Panama Disease, which damages bananas and has affected the Philippines' banana export industry, according to Business World Online.
The funds are part of a PHP1.4bn budget for high-value crop development.
The announcement follows the release of the country's banana production statistics, with the Philippines' major banans producing region, Davao, seeing a 11.63 per cent increase in banana production up until the third quarter of 2014 compared to the same period in 2013.
Last year, the United Nation's Food and Agriculture Organisation (FAO) urged countries to step up their action to fight the spread of the Panama disease.


"The spread of Fusarium wilt banana disease could have a significant impact on growers, traders and families who depend on the banana industry," Fazil Dusunceli, a plant pathologist at FAO, said in April last year. "Countries need to act now if we are to avoid the worst-case scenario, which is massive destruction of much of the world's banana crop.'